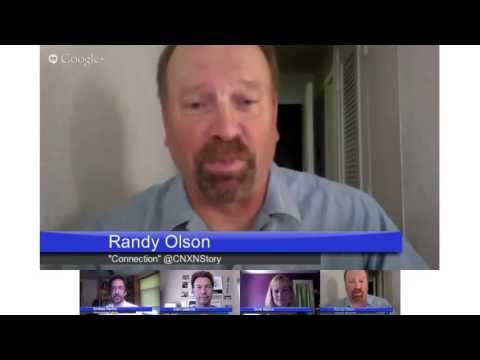 Randy Olson's journey meshing science and storytelling continues. The onetime marine biologist turned first to filmmaking, shooting edge-pushing movies on the fights over evolution science and global warming. Then he wrote "Don't be Such a Scientist," a manifesto and manual urging scientists to communicate in fresh ways.
Now he's back with "Connection: Hollywood Storytelling Meets Critical Thinking," a book that demystifies storytelling for scientists – or anyone else – by breaking the process into its basic components. The book is actually about storymaking, more than storytelling, he stresses. Olson's co-authors on this book are Dorie Barton, an actress and script analyst, and Brian Palermo, an actor whose specialty is comic improvisation. The also have developed a Storymaker app and run related workshops.
One mantra for this team is "and, but, therefore" — a distillation of the idea that any time you replace an and with a but or a therefore, you're not just listing facts, but creating a narrative with points of conflict, tension, humor and the like – in other words, one that might actually captivate an audience. (This concept has at least one root in the philosophy of Trey Parker, one of the creators of "South Park.")
Another central theme in Olson's storytelling approach is the importance of feeding the head, heart, gut and "lower organs" of the audience.
The challenge at the heart of "Connection" and Olson's other work is how you do this when conveying complex science or other subjects in which nuance counts. That's the clash of "critical thinking and Hollywood storytelling."
It's very easy to get carried away by the power of story and let the facts slide by the wayside. For more on the perils of overdoing the heart and gut part, read "Beware the Simple Storyteller," Olson's assessment of a recent onstage discussion I participated in with Josh Fox, the director of the "Gasland" anti-fracking films, the actor Alec Baldwin and another journalist. Here's an excerpt:
I advocate simplicity in storytelling, yet simultaneously warn about it when it comes to the truth. It is possible to do both — tell simple, yet true stories. You just have to be brave enough to endure the unpopularity of it.
It is possible, but certainly not easy. This new effort by Olson, Barton and Palermo is a welcome guide to bridging the gut/data and art/science divides.